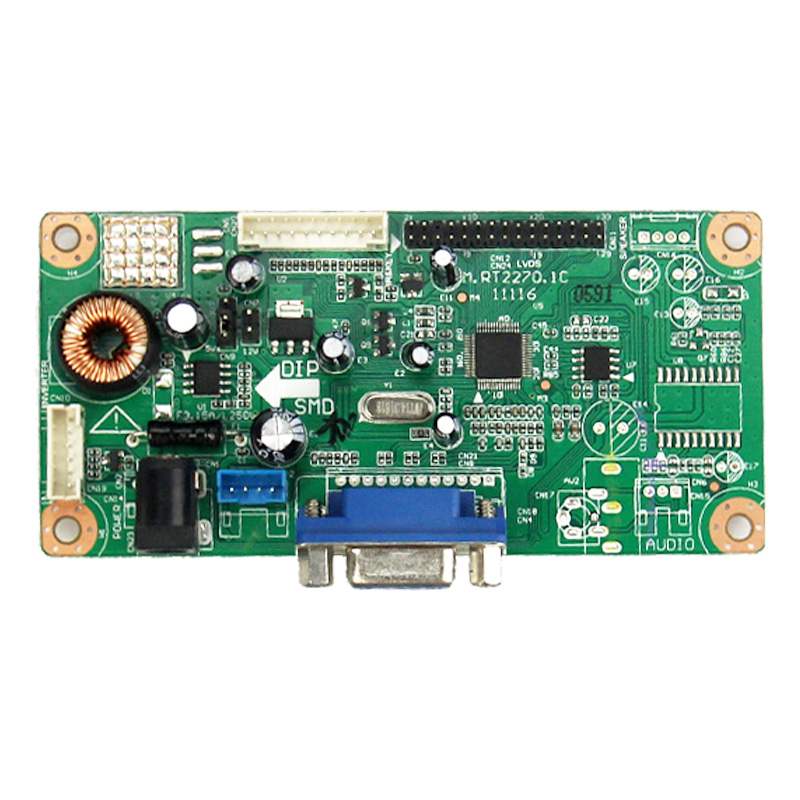 ROWA M.RT2270C.1 LCD Controller Board with VGA Input
ROWA M.RT2270C.1 LCD ControllervBoard
VGA Input
Dual LVDS
Support Max resolution 1680x1050
ROWA M.RT2270C.1 LCD Controller Board with VGA Input
1. GENERAL DESCRIPTION
M.RT2270C.1 is a monitor control board,The resolution is up to 1680x1050@75HZ. Its color reach
24bit potentially. H-Frequency signal range from 30 to 80 KHz, V-Frequency signal 60 to 75 Hz.

M.RT2270C.1 supports synchronize automatic detection and Dynamic Contrast Control, apply to Sync
Separator for extracting Hsync and Vsync.

2. STANDARD CONFIGURATION
Standard Configuration 1
Features: VGA(Horizontal terminal), without PC AUDIO IN
Main chipset:RTD2270CLW-CG
Terminal Functions: VGA(Horizontal terminal), without PC AUDIO IN
Power Supply:External Power Supply,Inside Diameter of Power Terminal is 2.0mm
Power to Panel:3.3V, 5V, 12V Reserved (Power to Panel switch to 5V)
Special Requirements: CN3/4PIN-2.0mm Blue Interface (Reverse)
Button Types : Ground Key Interface

Standard Configuration 2
Features :VGA(Vertical terminal), without PC AUDIO IN
Main chipset: RTD2270CLW-CG
Terminal Functions: VGA(Vertical terminal), without PC AUDIO IN
Power Supply: External Power Supply,Inside Diameter of Power Terminal is 2.0mm
Power to Panel: 3.3V, 5V, 12V Reserved (Power to Panel switch to 5V)
Special Requirements: CN3/4PIN-2.0mm Blue Interface (Reverse)
Button Types: Ground Key Interface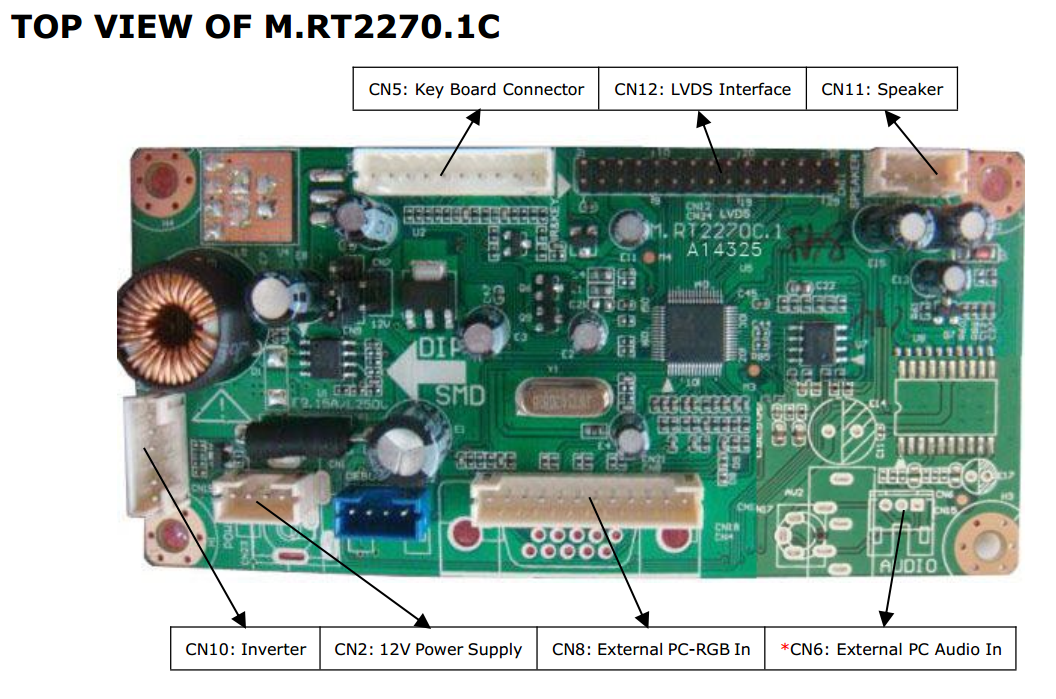 3. FEATURES
MAIN CHIP RTD2270L
PANEL
Interface Single/Dual LVDS
Resolution 1680x1050@75HZ
POWER
Requirement 12V DC, 12V (Built in), 12V/5V (Built in)
To Panel 3.3V, 5V,12V
Management Low power consumption mode, standby
standby <1W
OSD LANGUAGE
Simplified Chinese, Traditional Chinese, English, French, German, Italian, Spanish,
Portuguese, Japanese, Korean
KEY FUNCTION POWER,MENU,VOL+,VOL-,AUTO/EXIT

4.PCB Dimension